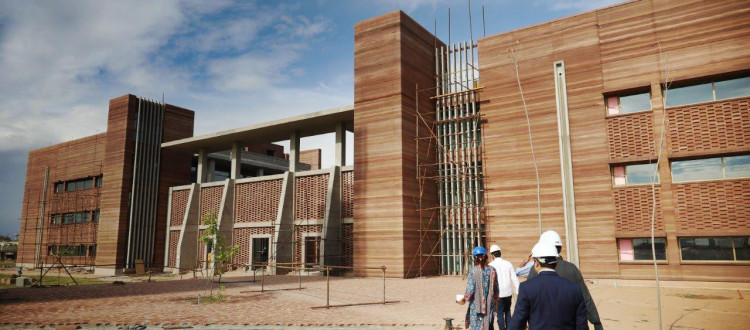 New tallest rammed earth structure on earth — we broke our old record!
Tower details: 100 feet tall, walls three feet thick!
A new SIREWALL project has just opened for business, the Telenor '345' head office complex near Islamabad, Pakistan.
As with any consulting projected, this one began with a prospecting trip. In March 2013, a team of master earth masons travelled to Islamabad, met and aligned with the architects, contractors and major project stakeholders. Every one of our prospecting trips includes meticulous analysis of local soils, mix design (aided by our proprietary mix design software), and then the creation of test walls and compression-test cylinders. We were so impressed by the culture of collaboration evident in the team of stakeholders—architects, lead contractor and engineer—as well as everyone's keen interest to get hands-on experience during the test wall construction.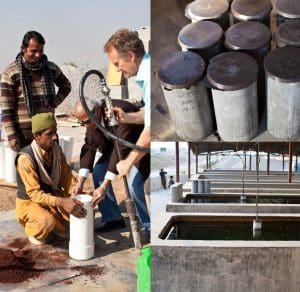 One of the biggest challenges we frequently encounter on new commercial construction projects (and this was no exception) stems from the fact that many of the methods of forming for SIREWALL are somewhat analogous to concrete forming methods. Indeed some of our greatest innovations in efficient forming methods—such as large-section gang forming—are taken directly from concrete forming practice. The trouble is, everyone is so familiar with concrete forming methods that they will often initially omit critical modifications that account for the unique needs of rammed earth. Experience has taught us to expect this unconscious resistance to change, and we address this specifically in the training phase of our consultation service.
Pakistan is an inspiring place to work and we were impressed with the high level of commitment and innovation toward sustainability and low-enviromental-impact development. Telenor 345 is just part of an expansive new mixed residential and commercial suburb called Gulberg Green. In 2013 when we first arrived, infrastructure was just being established, including solar-powered lighting on every street. This project's client, Telenor are themselves strongly committed to sustainability. With its use of locally available soils, and its unmatched low lifecycle embodied energy, SIREWALL is an obvious 'green' fit for their new Pakistan head office complex.
The major successes that stand out:
Training a massive work force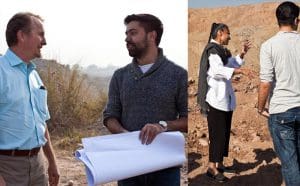 In countries like Pakistan where manual labour is abundant and comparatively low-cost, construction methods tends to be low-tech and labour intensive, and this project was no exception. Our challenge was to develop custom training protocols, appropriate for a large and mostly unskilled labour force, to ensure that the finished product met the exacting specifications that give it the high-performance characteristics unique to SIREWALL—primarily, compression strength in excess of 20Mpa.
Here's what success looked like:
Began training on a non-structural 'practice' wall
Deployed a scalable system of volumetric 'measuring cup' boxes, ensuring that the correct make-up of material was assembled each time, prior to combining, mixing and delivering
Trained workers to build formwork, mix material and ram correctly
Trained formen to manage quality control
Trained supervisors to handle quality assurance
The result? The biggest rammed earth project in the world!
done right, the many benefits of rammed earth are no longer limited to residential construction.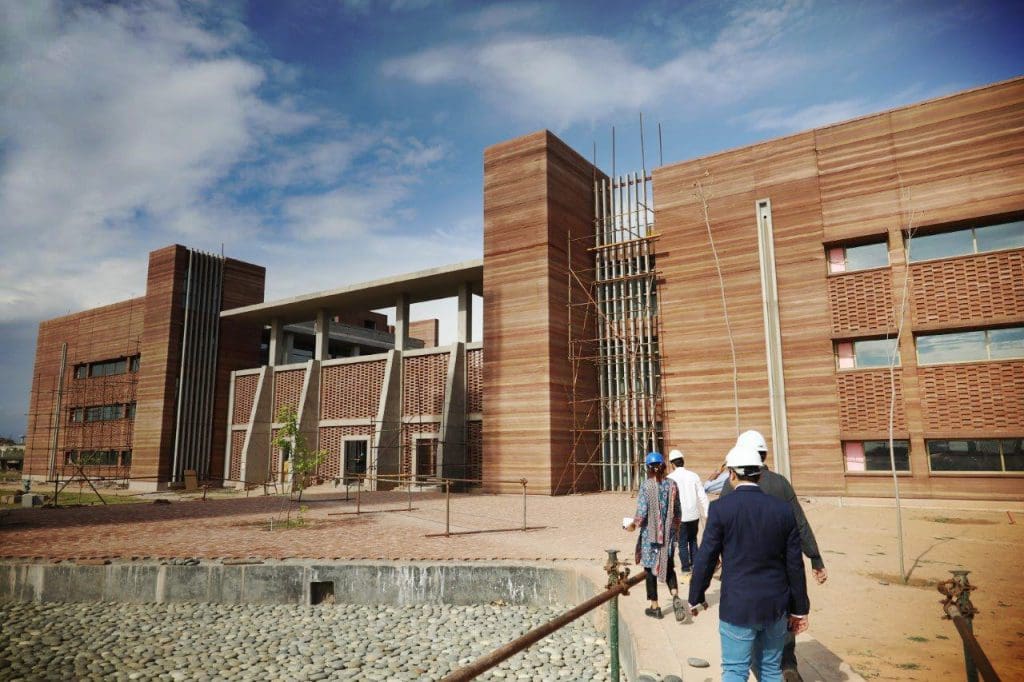 The overall scale of this project was 600,000 square-feet (5.57ha), by far the largest construction project implementing SIREWALL ever to be built. Although not all elements were created using strictly SIREWALL, the sheer scale—including a 10-foot high perimeter wall, 0.47 miles (750m) in length— is truly groundbreaking.
The project further demonstrates that, done right, the many benefits of rammed earth are no longer limited to residential construction. We're exited to help ambitious and innovative commercial architects to create bold new structures that are profoundly sustainable and uniquely beautiful.
---
For technical details, view this project in our portfolio